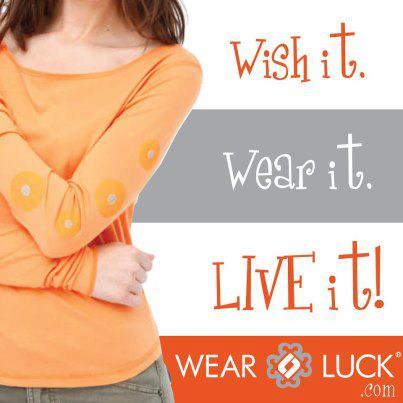 I came across this brand during a gifting suite earlier this year. At first glance, it looked to be just another t-shirt company… but then I got to talk to the lovely Lin Johnson and found out it was so much more.
Lin is one half of the training team for the Dallas Cowboys Cheerleaders. And while she's all about looking good and feeling great, she also wants to do away with some of the 'cattiness' that's pretty standard in some crowds. So she's one of the fabulous team members behind Wear Luck. The apparel features messaging meant to be inclusive (and religious if that's your thing), and positive. Love it.
You see that shirt she's wearing? I INSTANTLY fell in love with it. But she didn't have one during the event, so I asked her to send me one. And she did!
Okay, lets just talk about the level of awesome right here for a minute. First of all, people promise stuff all the time and never follow through (seriously, I've had folks tell me that they want to partner on a project and not hear from them for a YEAR). Plus, there was a LOT going on at the event, and the fact that these ladies took the time out to talk to and deal with me was really special. I had actually forgotten that I asked for the shirt so I was over the MOON when it showed up!
I love it! I ended up wearing it the next day to meet a friend who flew in from Atlanta. She fell in love and DEMANDED to know where I'd gotten it! So I sent her to the website.
Lin Rocks, I Rock, and SO DO YOU!
You can find out more about WearLuck apparel HERE.