This practical offering from Laura Mercier will make consumers and pros alike swoon. The new Custom Artist Portfolio is worth the hype. I took a closer look at it recently, and it is a beauty/makeup multi-tasker's dream.
Small Portfolio: $68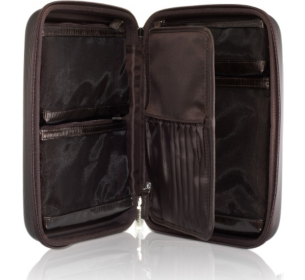 Large Portfolio: $98
The portfolio comes in two sizes: Small ($68) and Large ($98). The smaller size holds travel sized brushes, and has zippered mesh bags on either side to hold whatever you need. It also comes with a small refillable pro-palette.
The large will hold long handle brushes, and has four mesh pouches. It comes with both a small refillable palette and a large one. I personally think that the larger case is a better value. For $30 more you get twice the packing space, and a large palette. Totally worth it in my opinion.
The case isn't completely hard… but it's not totally soft either. It's made of a textured plastic with fabric trim (to accommodate the double zipper). It's slim enough to fit nicely in a suitcase, and big enough to hold both makeup and travel sized cosmetics.
For the money, this is highly practical. It's durable, easy to clean, and easy to pack. The palettes that it comes with are empty… they can be filled with Laura Mercier Pro Pans, and they're totally interchageable. So you can pack shadows, liners and I believe even blush colors to suit your needs.