Foundation Type: Powder
Skin Type: Normal to Oily
Coverage: Sheer to Medium
Finish: Matte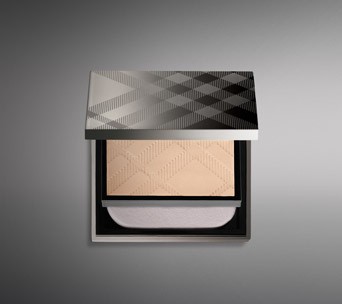 Let me begin by saying that I am not a fan of powder foundations. I have oily skin, and I don't like to 'force' a matte look because my skin will fight it and crease up a powder foundation. I've never found one that successfully sat on my skin. So I was all set to try this product out as a pressed powder. I figured I'd just wear it over foundation and be done with it.
But it doesn't work that way.
I got this foundation in the same shade as my sheer liquid version, in Trench #10. But I found that if I layered it over a liquid foundation (even if I let the foundation set), it oxidized TERRIBLY and went about 2 shades darker. This happened even if I used a foundation that is too light for my skin, and used this powder to correct. It still went too dark, and almost red. This powder is truly meant to be worn alone. So I tried it out by itself, and it worked beautifully.
FACE
Burberry Sheer Compact Foundation (Trench #10)
EYES
Burberry Eye Palette in Dark Spice:
Gold all over lids
Darkest brown on lashline
Medium Brown blended on outer crease
Urban Decay 24/7 Gel Liner in Zero (waterline)
Guerlain Maxi Lash Mascara
LIPS
Burberry Lipstick in Rosewood